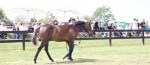 Stimulatte (4g Excites – Cafe Francais by Latarmiss), pictured as a yearling, made it back to back wins at Morphettville last Saturday when he stepped out beyond 2,000 metres for the first time in his career. Josh Cartwright allowed the Gordon Richards trained gelding to settle behind the pace maker Go Girlfriend who crossed from the wide gate and set a strong tempo. Stimulatte drew level after the turn and ran away to win easily by almost 5 lengths. It was the fourth win for the 4yo who won on debut as a 2yo.

Gordon Richards purchased the Lauriston Thoroughbred Farm bred gelding as a colt from Lauriston's draft at the Magic Million's Adelaide sale in 2012 for $7,000. Stimulatte has now won $94,000 and appears to be in top form.
Race Replay: R6 Morphettville 13 Dec 14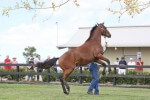 Stimulatte was not the only 4yo bred by Lauriston Thoroughbred Farm to salute last week. Gallant Express (4g Reset – Gal Express by Success Express), pictured as a yearling claimed his second career victory at Moe on the day prior.
Jockey Patrick Keane had originally served his apprenticeship with trainer Doug Harrison and had ridden Gallant Express on occasion at track work. During his career Gallant Express had frustrated his trainer and jockeys with his tendency to over race. And so Doug chose to drop him back in distance in an attempt to teach him to settle. In both of his rides on the gelding Patrick took an early hold and on both occasions Gallant Express settled after jumping. He finished both races well. He was runner up at Moe on the 25th of November and went one better last Friday hitting the line just when it mattered.
Race Replay: R6 Moe 12 Dec 14